Harmonic Filters
MTE offers an array of harmonic mitigation solutions, including the best THID reduction solution on the market with patented Adaptive Passive Technology, to increase productivity and system efficiency.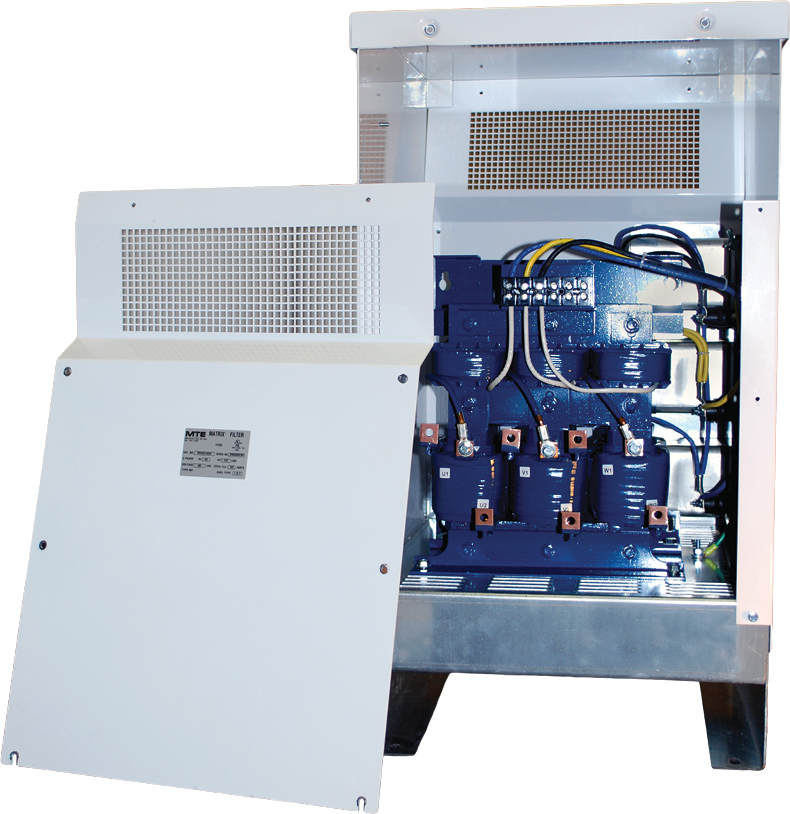 The Key to the Success of Our Harmonic Filter: adapt.
Simply put, our Matrix® AP three-phase filter is the most advanced passive filter on the market today. Most traditional filters work fine at 100% power load, but severely underperform at lower loads. Matrix AP is different, because we know almost no one runs at full load all the time. Its patented Adaptive Passive Technology virtually eliminates harmonic distortion by adapting to varying power loads. It delivers better THID performance, increases energy efficiency, and allows you to meet IEEE-519 requirements. Its unique design generates less heat, and is easy to install and maintain. Plus it is generator compatible. With Matrix AP Harmonic Filters, power quality, energy efficiency and reduced downtime are easy to achieve.
Improve three-phase power quality and reduce downtime with our patented Adaptive Passive Technology.
Adapts to varying power loads
Best performance in the industry
Extends the service life of electrical equipment
Generator compatible
Selection Tables
Amps Rating: 208V-240V Open Panel
Amps Rating: 208V-240V NEMA 1 / 2 & NEMA 3R
Amps Rating: 380V-415V Open Panel
Amps Rating: 380-415V NEMA 1 / 2 & NEMA 3R
Amps Rating: 480V Open Panel
Amps Rating: 480V NEMA 1 / 2 & NEMA 3R
Amps Rating: 600V Open Panel
Amps Rating: 600V NEMA 1 / 2 & NEMA 3R
Amps Rating: 690V Open Panel
Amps Rating: 208V-240V, 60Hz Open Panel
Drawings can be accessed by clicking on the part number

Motor
HP

Filter
Amps
Rating

Part
Number

Weight

Filter Dimensions
(H x W x D)

Watts
Loss

Capacitor/Capacitor Panel Assembly
Dimensions>(H x W x D)
Lbs
Kgs
Inches
Millimeters
Inches
Millimeters
1.5
6
MAPP0006A
19
9
8.5 x 8.0 x 5.4
216 x 203 x 137
95
7.5 x 3.0
191 x 76
2
8
MAPP0008A
19
9
8.5 x 8.0 x 5.4
216 x 203 x 137
102
7.5 x 3.0
191 x 76
3
11
MAPP0011A
22
10
8.6 x 8.0 x 5.4
218 x 203 x 137
122
7.5 x 4.6
191 x 117
5
14
MAPP0014A
21
10
8.6 x 8.0 x 5.4
218 x 203 x 137
180
7.5 x 3.9
191 x 99
5
21
MAPP0021A
30
14
9.8 X 8.0 X 4.8
249 x 203 x 122
187
9.1 x 4.6
231 x 117
7.5
27
MAPP0027A
36
16
9.7 x 9.0 x 5.3
246 x 229 x 135
191
9.1 x 4.6
231 x 117
10
34
MAPP0034A
51
23
11.7 x 10.5 x 6.7
297 x 267 x 170
217
10.6 x 4.6
269 x 117
15
44
MAPP0044A
52
24
11.6 x 10.5 x 7.2
295 x 267 x 183
269
9.0 x 4.6
229 x 117
20
52
MAPP0052A
56
25
11.7 x 10.5 x 7.2
297 x 267 x 183
287
9.0 x 3.5
229 x 89
25
66
MAPP0066A
64
29
11.6 x 10.5 x 7.7
295 x 267 x 196
334
9.0 x 3.9
229 x 99
30
83
MAPP0083A
77
35
11.6 x 10.5 x 9.1
295 x 267 x 231
373
9.0 x 3.9
229 x 99
40
103
MAPP0103A
111
50
14.0 x 12.0 x 9.6
356 x 305 x 244
475
(2) 10.6 x 4.6
269 x 117
50
128
MAPP0128A
134
61
14.0 x 12.0 x 10.8
356 x 305 x 274
558
(2) 10.6 x 4.6
269 x 117
60
165
MAPP0165A
157
71
13.9 x 12.0 x 12.3
353 x 305 x 312
601
10.6 x 4.6
9.0 x 4.6
269 x 117
229 x 117
75
208
MAPP0208A
174
79
14.0 x 12.0 x 13.4
356 x 305 x 340
681
(2) 9.0 x 4.6
229 x 117
100
240
MAPP0240A
225
102
19.9 x 15.3 x 11.9
505 x 389 x 302
1093
6.7 x 7.6 x 16.4
170 x 193 x 417
125
320
MAPP0320A
263
119
19.9 x 15.3 x 12.8
505 x 389 x 325
1305
6.7 x 7.6 x 16.4
170 x 193 x 417
150
403
MAPP0403A
280
127
20.0 x 15.3 x 12.8
508 x 389 x 325
1636
8.3 x 7.6 x 16.4
211 x 193 x 417
Amps Rating: 208V-240V, 60Hz NEMA 1/2 & NEMA 3R
Drawings can be accessed by clicking on the part number

Motor
HP

Filter
Amps
Rating

NEMA 1/2
Part
Number

Weight

Enclosure

Filter Dimensions
(H x W x D)

NEMA 3R
Part
Number
Weight
Enclosure
Filter Dimensions
(H x W x D)
Lbs
Kgs
Inches
Millimeters
Lbs
Kgs
Inches
Millimeters
1.5
6
MAPG0006A
65
29
CAB-12AP2
24.0 x 12.5 x 17.9
610 x 318 x 455
MAPW0006A
73
33
CAB-12AP3
24.0 x 12.5 x 22.9
610 x 318 x 582
2
8
MAPG0008A
65
29
CAB-12AP2
24.0 x 12.5 x 17.9
610 x 318 x 455
MAPW0008A
73
33
CAB-12AP3
24.0 x 12.5 x 22.9
610 x 318 x 582
3
11
MAPG0011A
69
31
CAB-12AP2
24.0 x 12.5 x 17.9
610 x 318 x 455
MAPW0011A
77
35
CAB-12AP3
24.0 x 12.5 x 22.9
610 x 318 x 582
5
14
MAPG0014A
68
31
CAB-12AP2
24.0 x 12.5 x 17.9
610 x 318 x 455
MAPW0014A
76
34
CAB-12AP3
24.0 x 12.5 x 22.9
610 x 318 x 582
5
21
MAPG0021A
77
35
CAB-12AP2
24.0 x 12.5 x 17.9
610 x 318 x 455
MAPW0021A
85
39
CAB-12AP3
24.0 x 12.5 x 22.9
610 x 318 x 582
7.5
27
MAPG0027A
84
38
CAB-12AP2
24.0 x 12.5 x 17.9
610 x 318 x 455
MAPW0027A
92
42
CAB-12AP3
24.0 x 12.5 x 22.9
610 x 318 x 582
10
34
MAPG0034A
98
44
CAB-12AP2
24.0 x 12.5 x 17.9
610 x 318 x 455
MAPW0034A
105
48
CAB-12AP3
24.0 x 12.5 x 22.9
610 x 318 x 582
15
44
MAPG0044A
100
45
CAB-12AP2
24.0 x 12.5 x 17.9
610 x 318 x 455
MAPW0044A
108
49
CAB-12AP3
24.0 x 12.5 x 22.9
610 x 318 x 582
20
52
MAPG0052A
105
48
CAB-12AP2
24.0 x 12.5 x 17.9
610 x 318 x 455
MAPW0052A
109
49
CAB-12AP3
24.0 x 12.5 x 22.9
610 x 318 x 582
25
66
MAPG0066A
112
51
CAB-12AP2
24.0 x 12.5 x 17.9
610 x 318 x 455
MAPW0066A
120
54
CAB-12AP3
24.0 x 12.5 x 22.9
610 x 318 x 582
30
83
MAPG0083A
124
56
CAB-12AP2
24.0 x 12.5 x 17.9
610 x 318 x 455
MAPW0083A
132
60
CAB-12AP3
24.0 x 12.5 x 22.9
610 x 318 x 582
40
103
MAPG0103A
185
84
CAB-17AP2
33.9 x 18.3 x 20.9
861 x 465 x 531
MAPW0103A
195
88
CAB-17AP3
33.9 x 18.3 x 26.0
861 x 465 x 660
50
128
MAPG0128A
207
94
CAB-17AP2
33.9 x 18.3 x 20.9
861 x 465 x 531
MAPW0128A
218
99
CAB-17AP3
33.9 x 18.3 x 26.0
861 x 465 x 660
60
165
MAPG0165A
232
105
CAB-17AP2
33.9 x 18.3 x 20.9
861 x 465 x 531
MAPW0165A
243
110
CAB-17AP3
33.9 x 18.3 x 26.0
861 x 465 x 660
75
208
MAPG0208A
249
113
CAB-17AP2
33.9 x 18.3 x 20.9
861 x 465 x 531
MAPW0208A
259
117
CAB-17AP3
33.9 x 18.3 x 26.0
861 x 465 x 660
100
240
MAPG0240A
396
180
CAB-26AP2
51.3 x 27.7 x 24.9
1303 x 704 x 632
MAPW0240A
407
185
CAB-26AP3
51.3 x 27.7 x 30.0
1303 x 704 x 762
125
320
MAPG0320A
432
196
CAB-26AP2
51.3 x 27.7 x 24.9
1303 x 704 x 632
MAPW0320A
445
202
CAB-26AP3
51.3 x 27.7 x 30.0
1303 x 704 x 762
150
403
MAPG0403A
448
203
CAB-26AP2
51.3 x 27.7 x 24.9
1303 x 704 x 632
MAPW0403A
461
209
CAB-26AP3
51.3 x 27.7 x 30.0
1303 x 704 x 762
Amps Rating: 380V-415V, 50Hz Open Panel
Drawings can be accessed by clicking on the part number

Motor
KW

Filter
Amps
Rating

Part
Number

Weight

Filter Dimensions
(H x W x D)

Watts
Loss

Capacitor/Capacitor Panel Assembly
Dimensions (H x W x D)
Lbs
Kgs
Inches
Millimeters
Inches
Millimeters
1.1-2.2
6
MAPP0006C
20
9
8.6 x 8.0 x 5.4
218 x 203 x 137
114
7.5 x 3.0
191 x 76
-
8
MAPP0008C
20
9
8.7 x 8.0 x 5.4
221 x 203 x 137
149
7.5 x 3.0
191 x 76
3.7
11
MAPP0011C
28
13
9.9 x 9.0 x 4.8
251 x 229 x 122
180
7.5 x 3.0
191 x 76
5.5
14
MAPP0014C
34
15
9.8 x 9.0 x 5.3
249 x 229 x 135
206
8.0 x 3.9
203 x 99
7.5
21
MAPP0021C
50
23
11.7 x 10.5 x 6.7
297 x 267 x 170
235
8.0 x 3.9
203 x 99
11
27
MAPP0027C
56
25
11.8 x 10.5 x 7.2
300 x 267 x 183
266
8.3 x 4.6
211 x 117
15
34
MAPP0034C
68
31
11.7 x 10.5 x 7.7
297 x 267 x 196
298
9.2 x 4.6
234 x 117
18.5-22
44
MAPP0044C
79
36
11.7 x 10.5 x 8.2
297 x 267 x 208
356
9.2 x 4.6
234 x 117
-
52
MAPP0052C
100
45
14.0 x 12.0 x 9.0
356 x 305 x 229
388
9.2 x 4.6
234 x 117
30
66
MAPP0066C
112
51
14.0 x 12.0 x 9.0
356 x 305 x 229
459
10.6 x 4.6
269 x 117
37-45
83
MAPP0083C
139
63
14.0 x 12.0 x 10.9
356 x 305 x 277
565
10.6 x 4.6
269 x 117
55
103
MAPP0103C
147
67
14.1 x 12.0 x 11.0
358 x 305 x 279
660
10.6 x 4.6
269 x 117
-
128
MAPP0128C
218
99
20.0 x 15.3 x 10.7
508 x 389 x 272
973
11.1 x 16.4 x 7.6
282 x 417 x 193
75-90
165
MAPP0165C
273
124
20.0 x 15.3 x 11.7
508 x 389 x 297
1,030
6.7 x 16.4 x 7.6
170 x 417 x 193
110
208
MAPP0208C
290
132
20.1 x 15.3 x 11.8
511 x 389 x 300
1,263
8.0 x 16.4 x 7.6
203 x 417 x 193
-
240
MAPP0240C
325
147
19.9 x 15.3 x 12.8
505 x 389 x 325
1,423
8.0 x 16.4 x 7.6
203 x 417 x 193
150
320
MAPP0320C
421
191
20.0 x 15.3 x 17.8
508 x 389 x 452
1,450
9.9 x 16.4 x 7.6
251 x 417 x 193
185-220
403
MAPP0403C
433
196
23.2 x 15.3 x 13.7
589 x 389 x 348
1,816
11.1 x 16.4 x 7.6
282 x 417 x 193
-
482
MAPP0482C
543
246
23.3 x 15.3 x 14.8
592 x 389 x 376
2,008
8.0 x 16.4 x 7.6
203 x 417 x 193
280
636
MAPP0636C
683
310
25.8 x 24.0 x 16.5
655 x 610 x 419
2,359
(2) 9.9 x 16.4 x 7.6
(2) 251 x 417 x 193
375
786
MAPP0786C
777
352
25.7 x 24.0 x 17.9
653 x 610 x 455
2,604
(2) 11.1 x 16.4 x 7.6
(2) 282 x 417 x 193
450
850
MAPP0850C
981
445
25.9 x 24.0 x 20.3
658 x 610 x 516
2,974
8.0 x 16.4 x 7.6
(2) 9.9 x 16.4 x 7.6
203 x 417 x 193
(2) 251 x 417 x 193
525
1000
MAPP1000C
973
441
25.9 x 24.0 x 21.2
658 x 610 x 538
3,954
(3) 9.9 x 16.4 x 7.6
(3) 251 x 417 x 193
600
1200
MAPP1200C
989
449
26.0 x 24.0 x 22.2
660 x 610 x 564
4,136
(3) 11.1 x 16.4 x 7.6
(3) 282 x 417 x 193
Amps Rating: 380V-415V, 50Hz NEMA 1 / 2 & NEMA 3R
Drawings can be accessed by clicking on the part number

Motor
KW

Filter
Amps
Rating

NEMA 1/2
Part
Number

Weight

Enclosure

Filter Dimensions
(H x W x D)

NEMA 3R
Part
Number

Weight

Enclosure

Filter Dimensions
(H x W x D)
Lbs
Kgs
Inches
Millimeters
Lbs
Kgs
Inches
Millimeters
1.1-2.2
6
MAPG0006C
66
30
CAB-12AP2
24.0 x 12.5 x 17.9
610 x 318 x 455
MAPW0006C
74
34
CAB-12AP3
24.0 x 12.5 x 23.0
310 x 318 x 584
-
8
MAPG0008C
68
31
CAB-12AP2
24.0 x 12.5 x 17.9
610 x 318 x 455
MAPW0008C
75
34
CAB-12AP3
24.0 x 12.5 x 23.0
310 x 318 x 584
3.7
11
MAPG0011C
75
34
CAB-12AP2
24.0 x 12.5 x 17.9
610 x 318 x 455
MAPW0011C
83
38
CAB-12AP3
24.0 x 12.5 x 23.0
310 x 318 x 584
5.5
14
MAPG0014C
82
37
CAB-12AP2
24.0 x 12.5 x 17.9
610 x 318 x 455
MAPW0014C
90
41
CAB-12AP3
24.0 x 12.5 x 23.0
310 x 318 x 584
7.5
21
MAPG0021C
98
44
CAB-12AP2
24.0 x 12.5 x 17.9
610 x 318 x 455
MAPW0021C
107
49
CAB-12AP3
24.0 x 12.5 x 23.0
310 x 318 x 584
11
27
MAPG0027C
103
47
CAB-12AP2
24.0 x 12.5 x 17.9
610 x 318 x 455
MAPW0027C
111
50
CAB-12AP3
24.0 x 12.5 x 23.0
310 x 318 x 584
15
34
MAPG0034C
115
52
CAB-12AP2
24.0 x 12.5 x 17.9
610 x 318 x 455
MAPW0034C
123
56
CAB-12AP3
24.0 x 12.5 x 23.0
310 x 318 x 584
18.5-22
44
MAPG0044C
127
58
CAB-12AP2
24.0 x 12.5 x 17.9
610 x 318 x 455
MAPW0044C
134
61
CAB-12AP3
24.0 x 12.5 x 23.0
310 x 318 x 584
-
52
MAPG0052C
174
79
CAB-17AP2
33.9 x 18.3 x 20.9
861 x 465 x 531
MAPW0052C
181
82
CAB-17AP3
33.9 x 18.3 x 26.0
861 x 465 x 660
30
66
MAPG0066C
186
84
CAB-17AP2
33.9 x 18.3 x 20.9
861 x 465 x 531
MAPW0066C
194
88
CAB-17AP3
33.9 x 18.3 x 26.0
861 x 465 x 660
37-45
83
MAPG0083C
212
96
CAB-17AP2
33.9 x 18.3 x 20.9
861 x 465 x 531
MAPW0083C
219
99
CAB-17AP3
33.9 x 18.3 x 26.0
861 x 465 x 660
55
103
MAPG0103C
221
100
CAB-17AP2
33.9 x 18.3 x 20.9
861 x 465 x 531
MAPW0103C
228
103
CAB-17AP3
33.9 x 18.3 x 26.0
861 x 465 x 660
-
128
MAPG0128C
390
177
CAB-26AP2
51.3 x 27.7 x 24.9
1303 x 704 x 632
MAPW0128C
396
180
CAB-26AP3
51.3 x 27.7 x 30.0
1303 x 704 x 762
75-90
165
MAPG0165C
442
200
CAB-26AP2
51.3 x 27.7 x 24.9
1303 x 704 x 632
MAPW0165C
455
206
CAB-26AP3
51.3 x 27.7 x 30.0
1303 x 704 x 762
110
208
MAPG0208C
459
208
CAB-26AP2
51.3 x 27.7 x 24.9
1303 x 704 x 632
MAPW0208C
472
214
CAB-26AP3
51.3 x 27.7 x 30.0
1303 x 704 x 762
-
240
MAPG0240C
494
224
CAB-26AP2
51.3 x 27.7 x 24.9
1303 x 704 x 632
MAPW0240C
507
230
CAB-26AP3
51.3 x 27.7 x 30.0
1303 x 704 x 762
150
320
MAPG0320C
658
298
CAB-26APD2
76.0 x 27.7 x 24.9
1930 x 704 x 632
MAPW0320C
683
310
CAB-26APD3
76.0 x 27.7 x 34.0
1930 x 704 x 864
185-200
403
MAPG0403C
660
288
CAB-26APD2
76.0 x 27.7 x 24.9
1930 x 704 x 632
MAPW0403C
667
303
CAB-26APD3
76.0 x 27.7 x 34.0
1930 x 704 x 864
-
482
MAPG0482C
955
433
CAB-42AP2
87.6 x 43.7 x 31.1
2225 x 1110 x 790
MAPW0482C
1,000
454
CAB-42AP3
87.6 x 43.7 x 40.1
2225 x 1110 x 790
280
636
MAPG0636C
1,094
496
CAB-42AP2
87.6 x 43.7 x 31.1
2225 x 1110 x 790
MAPW0636C
1,131
513
CAB-42AP3
87.6 x 43.7 x 40.1
2225 x 1110 x 790
375
786
MAPG0786C
1,183
537
CAB-42AP2
87.6 x 43.7 x 31.1
2225 x 1110 x 790
MAPW0786C
1,228
557
CAB-42AP3
87.6 x 43.7 x 40.1
2225 x 1110 x 790
450
850
MAPG0850C
1,604
728
CAB-48AP2
84.0 x 52.0 x 36.5
2134 x 1321 x 927
MAPW0850C
1,644
746
CAB-48AP3
84.0 x 52.0 x 45.5
2134 x 1321 x 1156
525
1000
MAPG1000C
1,579
716
CAB-48AP2
84.0 x 52.0 x 36.5
2134 x 1321 x 927
MAPW1000C
1,620
735
CAB-48AP3
84.0 x 52.0 x 45.5
2134 x 1321 x 1156
600
1200
MAPG1200C
1,575
714
CAB-48AP2
84.0 x 52.0 x 36.5
2134 x 1321 x 927
MAPW1200C
1,616
733
CAB-48AP3
84.0 x 52.0 x 45.5
2134 x 1321 x 1156
Amps Rating: 480V, 60Hz Open Panel
Drawings can be accessed by clicking on the part number

Motor
HP

Filter
Amps
Rating

Part
Number

Weight

Filter Dimensions
(H x W x D)

Watts
Loss

Capacitor/Capacitor Panel Assembly
Dimensions (H x W x D)
Lbs
Kgs
Inches
Millimeters
Inches
Millimeters
3
6
MAPP0006D
20
9
8.7 x 8.0 x 5.4
221 x 203 x 137
122
7.5 x 3.0
191 x 76
5
8
MAPP0008D
20
9
8.7 x 8.0 x 5.4
221 x 203 x 137
158
7.5 x 3.0
191 x 76
7.5
11
MAPP0011D
28
13
9.9 x 9.0 x 4.8
251 x 229 x 122
192
7.5 x 3.0
191 x 76
10
14
MAPP0014D
33
15
9.8 x 9.0 x 5.3
249 x 229 x 135
220
7.5 x 3.0
191 x 76
15
21
MAPP0021D
50
23
11.7 x 10.5 x 6.6
297 x 267 x 168
251
8.0 x 3.9
203 x 99
20
27
MAPP0027D
56
25
11.8 x 10.5 x 7.2
300 x 267 x 183
283
8.0 x 3.9
203 x 99
25
34
MAPP0034D
67
30
11.7 x 10.5 x 7.7
297 x 267 x 196
318
8.0 x 3.9
203 x 99
30
44
MAPP0044D
78
35
11.7 x 10.5 x 8.2
297 x 267 x 208
379
8.3 x 4.6
211 x 117
40
52
MAPP0052D
99
45
14.0 x 12.0 x 9.1
356 x 305 x 231
413
9.2 x 4.6
234 x 117
50
66
MAPP0066D
111
50
14.0 x 12.0 x 9.0
356 x 305 x 229
488
9.2 x 4.6
234 x 117
60
83
MAPP0083D
139
63
14.0 x 12.0 x 10.9
356 x 305 x 277
600
10.6 x 4.6
269 x 117
75
103
MAPP0103D
151
68
14.1 x 12.0 x 11.0
358 x 305 x 279
702
10.6 x 4.6
269 x 117
100
128
MAPP0128D
205
93
20.0 x 15.3 x 10.7
508 x 389 x 272
1,035
6.7 x 16.4 x 7.6
170 x 417 x 193
125
165
MAPP0165D
233
106
20.0 x 15.3 x 11.7
508 x 389 x 297
1,096
6.7 x 16.4 x 7.6
170 x 417 x 193
150
208
MAPP0208D
287
130
20.1 x 15.3 x 11.8
511 x 389 x 300
1,343
6.7 x 16.4 x 7.6
170 x 417 x 193
200
240
MAPP0240D
323
147
20.0 x 15.3 x 12.7
508 x 389 x 323
1,514
6.7 x 16.4 x 7.6
170 x 417 x 193
250
320
MAPP0320D
416
189
20.0 x 15.3 x 14.8
508 x 389 x 376
1,543
8.0 x 16.4 x 7.6
203 x 417 x 193
300
403
MAPP0403D
419
190
23.3 x 15.3 x 13.7
592 x 389 x 348
1,932
9.9 x 16.4 x 7.6
251 x 417 x 193
400
482
MAPP0482D
532
241
23.3 x 15.3 x 14.8
592 x 389 x 376
2,137
(2) 6.7 x 16.4 x 7.6
(2) 170 x 417 x 193
500
636
MAPP0636D
667
303
25.8 x 24.0 x 16.5
655 x 610 x 419
2,509
(2) 8.0 x 16.4 x 7.6
(2) 203 x 417 x 193
600
786
MAPP0786D
776
352
25.7 x 24.0 x 17.9
653 x 610 x 455
2,771
(2) 9.9 x 16.4 x 7.6
(2) 251 x 417 x 193
700
850
MAPP0850D
967
439
25.9 x 24.0 x 20.3
658 x 610 x 516
3,163
6.7 x 16.4 x 7.6
(2) 8.0 x 16.4 x 7.6
170 x 417 x 193
(2) 203 x 417 x 193
900
1000
MAPP1000D
946
429
25.9 x 24.0 x 21.2
658 x 610 x 538
4,206
(2) 8.0 x 16.4 x 7.6
9.9 x 16.4 x 7.6
(2) 203 x 417 x 193
251 x 417 x 193
1000
1200
MAPP1200D
990
449
26.0 x 24.0 x 22.2
660 x 610 x 564
4,400
(3) 9.9 x 16.4 x 7.6
(3) 251 x 417 x 193
1300
1600
MAPP1600D
2,272
1031
33.4 x 36.0 x 29.3
848 x 914 x 744
4,500
(4) 9.9 x 16.4 x 7.6
(4) 251 x 417 x 193
1500
2000
MAPP2000D
2,678
1215
33.6 x 36.0 x 31.3
853 x 914 x 795
5,050
(5) 9.9 x 16.4 x 7.6
(5) 251 x 417 x 193
1850
2300
MAPP2300D
2,893
1312
33.4 x 36.0 x 32.4
848 x 914 x 823
6,100
(6) 9.9 x 16.4 x 7.6
(6) 251 x 417 x 193
Amps Rating: 480V, 60Hz NEMA 1 / 2 & NEMA 3R
Drawings can be accessed by clicking on the part number

Motor
HP

Filter
Amps
Rating

NEMA 1/2
Part
Number

Weight

Enclosure

Filter Dimensions
(H x W x D)

NEMA 3R
Part
Number

Weight

Enclosure

Filter Dimensions
(H x W x D)
Lbs
Kgs
Inches
Millimeters
Lbs
Kgs
Inches
Millimeters
3
6
MAPG0006D
66
30
CAB-12AP2
24.0 x 12.5 x 17.9
610 x 318 x 455
MAPW0006D
74
34
CAB-12AP3
24.0 x 12.5 x 23.0
610 x 318 x 584
5
8
MAPG0008D
68
31
CAB-12AP2
24.0 x 12.5 x 17.9
610 x 318 x 455
MAPW0008D
75
34
CAB-12AP3
24.0 x 12.5 x 23.0
610 x 318 x 584
7.5
11
MAPG0011D
75
34
CAB-12AP2
24.0 x 12.5 x 17.9
610 x 318 x 455
MAPW0011D
83
38
CAB-12AP3
24.0 x 12.5 x 23.0
610 x 318 x 584
10
14
MAPG0014D
80
36
CAB-12AP2
24.0 x 12.5 x 17.9
610 x 318 x 455
MAPW0014D
88
40
CAB-12AP3
24.0 x 12.5 x 23.0
610 x 318 x 584
15
21
MAPG0021D
98
44
CAB-12AP2
24.0 x 12.5 x 17.9
610 x 318 x 455
MAPW0021D
107
49
CAB-12AP3
24.0 x 12.5 x 23.0
610 x 318 x 584
20
27
MAPG0027D
104
47
CAB-12AP2
24.0 x 12.5 x 17.9
610 x 318 x 455
MAPW0027D
112
51
CAB-12AP3
24.0 x 12.5 x 23.0
610 x 318 x 584
25
34
MAPG0034D
113
51
CAB-12AP2
24.0 x 12.5 x 17.9
610 x 318 x 455
MAPW0034D
122
55
CAB-12AP3
24.0 x 12.5 x 23.0
610 x 318 x 584
30
44
MAPG0044D
128
58
CAB-12AP2
24.0 x 12.5 x 17.9
610 x 318 x 455
MAPW0044D
133
60
CAB-12AP3
24.0 x 12.5 x 23.0
610 x 318 x 584
40
52
MAPG0052D
173
78
CAB-17AP2
33.9 x 18.3 x 20.9
861 x 465 x 531
MAPW0052D
181
82
CAB-17AP3
33.9 x 18.3 x 26.0
861 x 465 x 660
50
66
MAPG0066D
185
84
CAB-17AP2
33.9 x 18.3 x 20.9
861 x 465 x 531
MAPW0066D
193
88
CAB-17AP3
33.9 x 18.3 x 26.0
861 x 465 x 660
60
83
MAPG0083D
209
95
CAB-17AP2
33.9 x 18.3 x 20.9
861 x 465 x 531
MAPW0083D
217
98
CAB-17AP3
33.9 x 18.3 x 26.0
861 x 465 x 660
75
103
MAPG0103D
226
103
CAB-17AP2
33.9 x 18.3 x 20.9
861 x 465 x 531
MAPW0103D
237
108
CAB-17AP3
33.9 x 18.3 x 26.0
861 x 465 x 660
100
128
MAPG0128D
370
168
CAB-26AP2
51.3 x 27.7 x 24.9
1303 x 704 x 632
MAPW0128D
383
174
CAB-26AP3
51.3 x 27.7 x 30.0
1303 x 704 x 762
125
165
MAPG0165D
435
197
CAB-26AP2
51.3 x 27.7 x 24.9
1303 x 704 x 632
MAPW0165D
448
203
CAB-26AP3
51.3 x 27.7 x 30.0
1303 x 704 x 762
150
208
MAPG0208D
452
205
CAB-26AP2
51.3 x 27.7 x 24.9
1303 x 704 x 632
MAPW0208D
464
210
CAB-26AP3
51.3 x 27.7 x 30.0
1303 x 704 x 762
200
240
MAPG0240D
488
221
CAB-26AP2
51.3 x 27.7 x 24.9
1303 x 704 x 632
MAPW0240D
501
227
CAB-26AP3
51.3 x 27.7 x 30.0
1303 x 704 x 762
250
320
MAPG0320D
654
297
CAB-26APD2
76.0 x 27.7 x 24.9
1930 x 704 x 632
MAPW0320D
679
308
CAB-26APD3
76.0 x 27.7 x 34.0
1930 x 704 x 864
300
403
MAPG0403D
649
294
CAB-26APD2
76.0 x 27.7 x 24.9
1930 x 704 x 632
MAPW0403D
678
308
CAB-26APD3
76.0 x 27.7 x 34.0
1930 x 704 x 864
400
482
MAPG0482D
944
428
CAB-42AP2
87.6 x 43.7 x 31.1
2225 x 1110 x 790
MAPW0482D
981
445
CAB-42AP3
87.6 x 43.7 x 40.1
2225 x 1110 x 1019
500
636
MAPG0636D
1,085
492
CAB-42AP2
87.6 x 43.7 x 31.1
2225 x 1110 x 790
MAPW0636D
1,122
509
CAB-42AP3
87.6 x 43.7 x 40.1
2225 x 1110 x 1019
600
786
MAPG0786D
1,183
537
CAB-42AP2
87.6 x 43.7 x 31.1
2225 x 1110 x 790
MAPW0786D
1,228
557
CAB-42AP3
87.6 x 43.7 x 40.1
2225 x 1110 x 1019
700
850
MAPG0850D
1,590
721
CAB-48AP2
84.0 x 52.0 x 36.5
2134 x 1321 x 927
MAPW0850D
1,630
739
CAB-48AP3
84.0 x 52.0 x 45.5
2134 x 1321 x 1156
900
1000
MAPG1000D
1,566
710
CAB-48AP2
84.0 x 52.0 x 36.5
2134 x 1321 x 927
MAPW1000D
1,607
729
CAB-48AP3
84.0 x 52.0 x 45.5
2134 x 1321 x 1156
1000
1200
MAPG1200D
1,595
723
CAB-48AP2
84.0 x 52.0 x 36.5
2134 x 1321 x 927
MAPW1200D
1,634
741
CAB-48AP3
84.0 x 52.0 x 45.5
2134 x 1321 x 1156
Amps Rating: 600V, 60Hz Open Panel
Drawings can be accessed by clicking on the part number

Motor
HP

Filter
Amps
Rating

Part
Number

Weight

Filter Dimensions
(H x W x D)

Watts
Loss

Capacitor/Capacitor Panel Assembly
Dimensions (H x W x D)
Lbs
Kgs
Inches
Millimeters
Inches
Millimeters
5
6
MAPP0006E
18
8
8.7 x 8.0 x 5.4
221 x 203 x 137
150
7.5 x 3.0
191 x 76
5
8
MAPP0008E
28
13
9.8 x 9.0 x 4.8
249 x 229 x 122
183
7.5 x 3.0
191 x 76
10
11
MAPP0011E
32
15
9.8 x 9.0 x 5.3
249 x 229 x 135
205
7.5 x 3.0
191 x 76
10
14
MAPP0014E
47
21
11.7 x 10.5 x 6.7
297 x 267 x 170
250
9.2 x 4.6
234 x 117
15
21
MAPP0021E
58
26
11.7 x 10.5 x 7.2
297 x 267 x 183
285
7.5 x 3.9
191 x 99
25
27
MAPP0027E
68
31
11.7 x 10.5 x 7.7
297 x 267 x 196
304
8.3 x 4.6
211 x 117
30
34
MAPP0034E
89
40
11.7 x 10.5 x 8.2
297 x 267 x 208
366
8.3 x 4.6
211 x 117
40
44
MAPP0044E
118
54
14.0 x 12.0 x 9.9
356 x 305 x 251
395
9.2 x 4.6
234 x 117
50
52
MAPP0052E
142
64
14.1 x 12.0 x 10.3
358 x 305 x 262
494
9.2 x 4.6
234 x 117
60
66
MAPP0066E
166
75
14.0 x 12.0 x 11.0
356 x 305 x 279
655
10.6 x 4.6
269 x 117
75
83
MAPP0083E
144
65
14.1 x 12.0 x 10.9
358 x 305 x 277
718
10.6 x 4.6
269 x 117
100
103
MAPP0103E
210
95
20.0 x 15.3 x 10.7
508 x 389 x 272
1,085
6.7 x 16.4 x 7.6
170 x 417 x 193
125
128
MAPP0128E
270
122
20.0 x 15.3 x 11.7
508 x 389 x 297
1,090
6.7 x 16.4 x 7.6
170 x 417 x 193
150
165
MAPP0165E
287
130
20.1 x 15.3 x 11.9
511 x 389 x 302
1,285
6.7 x 16.4 x 7.6
170 x 417 x 193
200
208
MAPP0208E
322
146
20.1 x 15.3 x 12.8
511 x 389 x 325
1,431
7.7 x 16.4 x 7.6
196 x 417 x 193
250
240
MAPP0240E
427
194
19.9 x 15.3 x 15.8
505 x 389 x 401
1,624
7.7 x 16.4 x 7.6
196 x 417 x 193
300
320
MAPP0320E
501
227
23.2 x 15.3 x 15.7
589 x 389 x 399
2,021
9.2 x 16.4 x 7.6
234 x 417 x 193
400
403
MAPP0403E
504
229
23.3 x 15.3 x 15.8
592 x 389 x 401
2,208
12.1 x 16.4 x 7.6
307 x 417 x 193
500
482
MAPP0482E
670
304
25.9 x 24.0 x 16.6
658 x 610 x 422
2,481
(2) 7.7 x 16.4 x 7.6
(2) 196 x 417 x 193
600
636
MAPP0636E
754
342
25.9 x 24.0 x 17.7
658 x 610 x 450
2,884
(2) 9.2 x 16.4 x 7.6
(2) 234 x 417 x 193
800
786
MAPP0786E
927
420
26.0 x 24.0 x 19.5
660 x 610 x 495
3,368
(2) 12.1 x 16.4 x 7.6
(2) 307 x 417 x 193
Amps Rating: 600V, 60Hz NEMA 1 / 2 & NEMA 3R
Drawings can be accessed by clicking on the part number

Motor
HP

Filter
Amps
Rating

NEMA 1/2
Part
Number

Weight

Enclosure

Filter Dimensions
(H x W x D)

NEMA 3R
Part
Number

Weight

Enclosure

Filter Dimensions
(H x W x D)
Lbs
Kgs
Inches
Millimeters
Lbs
Kgs
Inches
Millimeters
5
6
MAPG0006E
67
30
CAB-12AP2
24.0 x 12.5 x 17.9
610 x 318 x 455
MAPW0006E
75
34
CAB-12AP3
24.0 x 12.5 x 23.0
610 x 318 x 584
5
8
MAPG0008E
75
34
CAB-12AP2
24.0 x 12.5 x 17.9
610 x 318 x 455
MAPW0008E
83
38
CAB-12AP3
24.0 x 12.5 x 23.0
610 x 318 x 584
10
11
MAPG0011E
79
36
CAB-12AP2
24.0 x 12.5 x 17.9
610 x 318 x 455
MAPW0011E
87
39
CAB-12AP3
24.0 x 12.5 x 23.0
610 x 318 x 584
10
14
MAPG0014E
94
43
CAB-12AP2
24.0 x 12.5 x 17.9
610 x 318 x 455
MAPW0014E
102
46
CAB-12AP3
24.0 x 12.5 x 23.0
610 x 318 x 584
15
21
MAPG0021E
106
48
CAB-12AP2
24.0 x 12.5 x 17.9
610 x 318 x 455
MAPW0021E
113
51
CAB-12AP3
24.0 x 12.5 x 23.0
610 x 318 x 584
25
27
MAPG0027E
115
52
CAB-12AP2
24.0 x 12.5 x 17.9
610 x 318 x 455
MAPW0027E
123
56
CAB-12AP3
24.0 x 12.5 x 23.0
610 x 318 x 584
30
34
MAPG0034E
124
56
CAB-12AP2
24.0 x 12.5 x 17.9
610 x 318 x 455
MAPW0034E
131
59
CAB-12AP3
24.0 x 12.5 x 23.0
610 x 318 x 584
40
44
MAPG0044E
192
87
CAB-17AP2
33.9 x 18.3 x 20.9
861 x 465 x 531
MAPW0044E
199
90
CAB-17AP3
33.9 x 18.3 x 26.0
861 x 465 x 660
50
52
MAPG0052E
197
89
CAB-17AP2
33.9 x 18.3 x 20.9
861 x 465 x 531
MAPW0052E
204
93
CAB-17AP3
33.9 x 18.3 x 26.0
861 x 465 x 660
60
66
MAPG0066E
209
95
CAB-17AP2
33.9 x 18.3 x 20.9
861 x 465 x 531
MAPW0066E
217
98
CAB-17AP3
33.9 x 18.3 x 26.0
861 x 465 x 660
75
83
MAPG0083E
218
99
CAB-17AP2
33.9 x 18.3 x 20.9
861 x 465 x 531
MAPW0083E
226
103
CAB-17AP3
33.9 x 18.3 x 26.0
861 x 465 x 660
100
103
MAPG0103E
372
169
CAB-26AP2
51.3 x 27.7 x 24.9
1303 x 704 x 632
MAPW0103E
385
175
CAB-26AP3
51.3 x 27.7 x 30.0
1303 x 704 x 762
125
128
MAPG0128E
436
198
CAB-26AP2
51.3 x 27.7 x 24.9
1303 x 704 x 632
MAPW0128E
449
204
CAB-26AP3
51.3 x 27.7 x 30.0
1303 x 704 x 762
150
165
MAPG0165E
456
207
CAB-26AP2
51.3 x 27.7 x 24.9
1303 x 704 x 632
MAPW0165E
469
213
CAB-26AP3
51.3 x 27.7 x 30.0
1303 x 704 x 762
200
208
MAPG0208E
482
219
CAB-26AP2
51.3 x 27.7 x 24.9
1303 x 704 x 632
MAPW0208E
516
234
CAB-26AP3
51.3 x 27.7 x 30.0
1303 x 704 x 762
250
240
MAPG0240E
661
300
CAB-26APD2
76.0 x 27.7 x 24.9
1930 x 704 x 632
MAPW0240E
687
312
CAB-26APD3
76.0 x 27.7 x 34.0
1930 x 704 x 864
300
320
MAPG0320E
740
336
CAB-26APD2
76.0 x 27.7 x 24.9
1930 x 704 x 632
MAPW0320E
765
347
CAB-26APD3
76.0 x 27.7 x 34.0
1930 x 704 x 864
400
403
MAPG0403E
909
412
CAB-42AP2
87.6 x 43.7 x 31.1
2225 x 1110 x 790
MAPW0403E
945
429
CAB-42AP3
87.6 x 43.7 x 40.1
2225 x 1110 x 1019
500
482
MAPG0482E
1,091
495
CAB-42AP2
87.6 x 43.7 x 31.1
2225 x 1110 x 790
MAPW0482E
1,136
515
CAB-42AP3
87.6 x 43.7 x 40.1
2225 x 1110 x 1019
600
636
MAPG0636E
1,227
557
CAB-42AP2
87.6 x 43.7 x 31.1
2225 x 1110 x 790
MAPW0636E
1,264
573
CAB-42AP3
87.6 x 43.7 x 40.1
2225 x 1110 x 1019
800
786
MAPG0786E
1,509
684
CAB-48AP2
84.0 x 52.0 x 36.5
2134 x 1321 x 927
MAPW0786E
1,549
703
CAB-48AP3
84.0 x 52.0 x 45.5
2134 x 1321 x 1156
Amps Rating: 690V, 50Hz Open Panel
Drawings can be accessed by clicking on the part number

Motor
KW

Filter
Amps
Rating

Part
Number

Weight

Filter Dimensions
(H x W x D)

Watts
Loss

Capacitor/Capacitor Panel Assembly
Dimensions (H x W x D)
Lbs
Kgs
Inches
Millimeters
Inches
Millimeters
37
52
MAPP0052F
191
87
19.8 x 15.3 x 11.1
503 x 389 x 282
681
6.7 x 16.4 x 7.6
170 x 417 x 193
45
66
MAPP0066F
193
88
19.9 x 15.3 x 11.2
505 x 389 x 284
844
7.7 x 16.4 x 7.6
196 x 417 x 193
55
83
MAPP0083F
254
115
19.9 x 15.3 x 11.6
505 x 389 x 295
850
6.7 x 16.4 x 7.6
170 x 417 x 193
75
103
MAPP0103F
242
110
20.1 x 15.3 x 11.7
511 x 389 x 297
1,051
9.2 x 16.4 x 7.6
234 x 417 x 193
90
128
MAPP0128F
323
147
19.9 x 15.3 x 12.7
505 x 389 x 323
1,106
8.0 x 16.4 x 7.6
203 x 417 x 193
110
165
MAPP0165F
378
171
19.9 x 15.3 x 14.8
505 x 389 x 376
1,257
10.7 x 16.3 x 7.6
272 x 414 x 193
150
208
MAPP0208F
448
203
23.1 x 15.3 x 13.7
587 x 389 x 348
1,400
6.7 x 16.4 x 7.6
7.7 x 16.4 x 7.6
170 x 417 x 193
196 x 417 x 193
185
240
MAPP0240F
503
228
23.2 x 15.3 x 14.9
589 x 389 x 378
1,721
7.7 x 16.4 x 7.6
8.0 x 16.4 x 7.6
196 x 417 x 193
203 x 417 x 193
222
320
MAPP0320F
627
284
25.9 x 24.0 x 16.7
658 x 610 x 424
2,031
(2) 9.9 x 16.4 x 7.6
(2) 251 x 417 x 193
280
403
MAPP0403F
982
445
25.8 x 24.0 x 17.8
655 x 610 x 452
2,780
6.7 x 16.4 x 7.6
(2) 9.9 x 16.4 x 7.6
170 x 417 x 193
(2) 251 x 417 x 193
375
482
MAPP0482F
1,167
529
25.9 x 24.0 x 19.0
658 x 610 x 483
2,883
(3) 9.9 x 16.4 x 7.6
(3) 251 x 417 x 193
450
636
MAPP0636F
1,084
492
25.9 x 24.0 x 21.6
658 x 610 x 549
3,140
(3) 11.1 x 16.4 x 7.6
(3) 282 x 417 x 193