Matrix® AP Harmonic Filters provided the valuable solution to meet global THID performance standards.
A textile machinery manufacturer looking to expand its operations internationally discovered a problem with harmonic distortion in their systems. The use of Variable Frequency Drives (VFDs) within their machines improved efficiency and precision by controlling motor speeds but created harmful harmonics that negatively impacted overall operations.
The challenge:
In order for Jingwei to expand their business internationally, their machinery needed to comply with overseas regulations and specifications. This included compliance to the stringent specifications of UL (Underwriter Laboratories), CE, and IEEE-519.
The solution:
Jingwei engineers approached MTE Corporation for a solution. The MTE team noticed that their textile machinery uses VFDs to control the motors for efficiency and precision. However, this creates harmonic
distortions because of the non-liner load generated from the VFD. In order to provide smooth, clean power, MTE recommended the Matrix® AP for use in Jingwei machinery. This Adaptive Passive filter was specially
designed to reduce harmonic distortion and improve motor life, especially over a wide range of loads. There are no electronic components used in the filter; MTE engineers developed it with a special combination of
materials that allow the Matrix® AP to work virtually maintenance-free for years.
The result:
The Matrix® AP filter was able to adapt to varying loads, deliver improved THID performance, and meet UL, CE, and IEEE-519 specifications. It not only helps to smooth and improve the power quality, its small size makes it easy for Jingwei to integrate and install into their system.
About Jingwei:
Jingwei Textile Machinery Co., Ltd. is a listed company in Shenzhen and Hong Kong and belongs to the China Hengtian Group, under the management of State Assets Administration Committee. The company was the first
large-sized modern textile machinery manufacturer of the new China. Today, the company has become a high-tech enterprise, owning over 30 subsidiaries and branches with a total staff of over 14,000.
______________________________________________________________________________________________________________________________________
Matrix AP Harmonic Filter vs. Competition THID [%]The generator compatible Matrix AP Harmonic Filter has best-in-class performance.



Percentage of Full Load [%]



______________________________________________________________________________________________________________________________________
The Matrix AP Harmonic Filter, with MTE's innovative adaptive passive technology, is the most advanced harmonic filter that provides improved power factor and energy efficiency. Using the patent pending adaptive passive technology, the filter adapts to various loads while providing optimized THID performance.  It guarantees a THID performance of 8% MAX at 30% load and 5% MAX at full load and helps meet IEEE-519 requirements.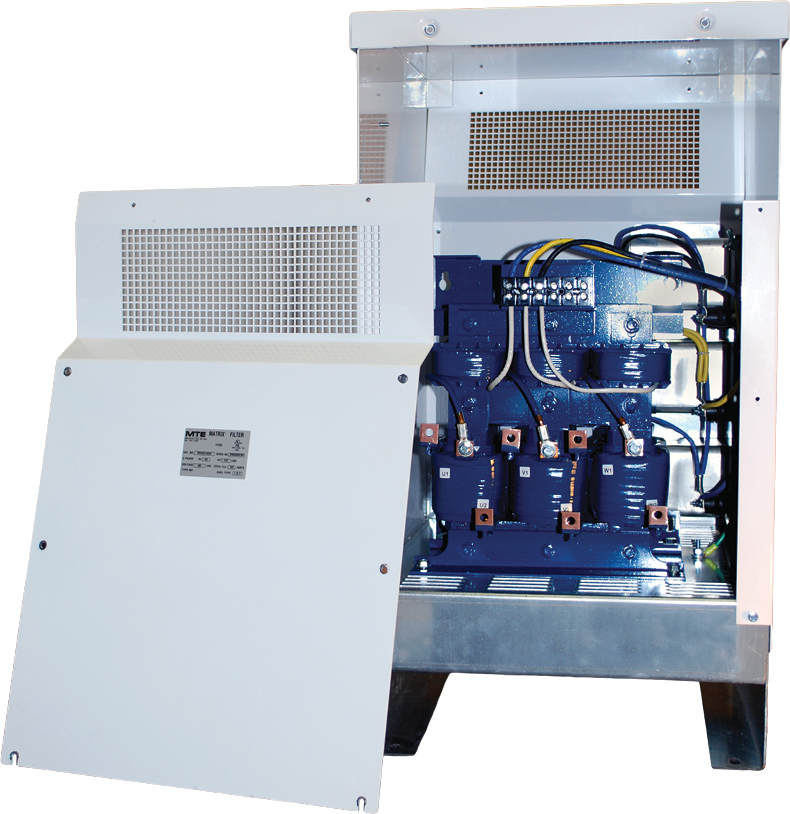 Matrix AP Benefits
Adaptive passive technology offers best-in-class harmonic reduction in virtually all applications
Efficient performance delivers lower heat generation and helps keep the entire electrical system running smoother and longer
Simplified wiring for quick, easy installation and serviceability
Modular design allows flexibility in system integration
Robust product design is backed by a three-year warranty